Structural dynamics testing and analysis solution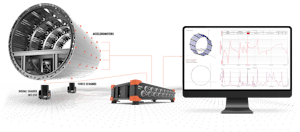 The modal test and modal analysis are indispensable tools to determine natural frequencies, damping ratios, and mode shapes of any structure. With Dewesoft's modal test solution, you can excite a structure with an impact hammer or multiple modal shakers and easily measure the responses. SISO, SIMO, MISO, and MIMO test configurations are supported. You can import or draw geometry and perform rich visualization and animations. The modal analysis extension provides the tools to estimate modal parameters. 
Dewesoft is an out-of-the-box modal solution for Experimental Modal Testing (EMA), Operational Deflection Shapes (ODS), and Operational Modal Analysis (OMA). The system also comes with lifetime FREE software updates and support.