Industry-Leading Instrumentation Warranty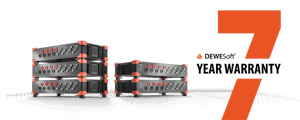 Focus on your job - we guarantee your tools will work.
The Dewesoft 7-year warranty applies to our data acquisition systems. You buy it, own it, use it, and our warranty keeps you covered. The 7-Year warranty comes with no extra charge. 
Enjoy this unique add-on to Dewesoft quality products and services.